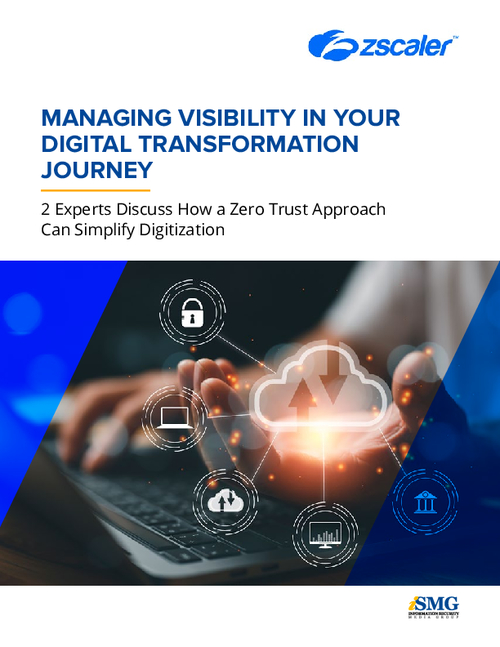 Two experts - Sudip Banerjee, field CTO at Zscaler, and Lee Dolsen, director, solution architecture at Zscaler - share their views on how to simplify a bank's digital transformation journey and make it secure at multiple levels (see: Digital Transformation in the Banking and Financial Services Sector).
"Banks have always invested a lot in security," Dolsen says, "but that security has often been on-premises," which he says "doesn't help drive digital transformation." He says that instead of thinking in terms of bringing users to a network where all the controls exist, banks should create a clean slate by shifting to a zero trust approach.
Banerjee says that with multiple technologies in place, overall visibility is often missing. "Nowadays almost everything on the internet is encrypted behind SSL and now TLS. Unless you're doing traffic inspection at scale and you're looking at potentially every data packet, you would not know what is flowing through the wire and whether it is good or bad," he says.
In this eBook from a panel discussion with Information Security Media Group, Dolsen and Banerjee also discuss:
How enterprises must approach digitization;
How a zero trust approach can help simplify digitization;
How best to solve the problem of visibility.
Banerjee is the field CTO, APJ at Zscaler. He has expertise in the banking and finance industry, with experience in driving digital transformation programs, public cloud SaaS adoption and re-architecting network infrastructure for enhanced user productivity with an improved security posture. He has worked in consulting with PwC and ran a CRM automation program across GE Consumer Finance. He also served as the group CTO for a diversified group of businesses.
Dolsen, chief architect for Zscaler's Asia-Pacific business, has more than 20 years of experience in the IT industry, focusing on various aspects of internet security and content delivery.
Download now to know more.